Antique Light Bulb Solutions
Professional Solutions for Your Home or Business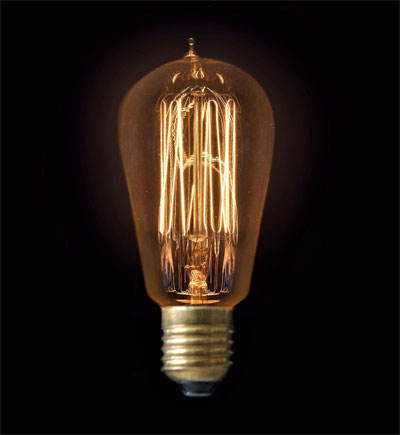 For some people any old bulb will do, especially when you have a vision of a particular motif or feel that you want portrayed. For those with a more discriminating taste in lighting only, the perfect bulb is a necessity, when the perfect lighting fixture has been found. If the perfect fixture is an antique, then nothing but an antique light bulb will suffice. Have you found that you are drawn to surrounding yourself with period pieces from the Victorian era? Or perhaps your taste is a bit more eclectic and you find art nouveau to be more to your liking? No matter what your taste, be it in the late 1800s or early 1900s, antique light bulbs are a necessity, when it comes to authenticating your period piece lamps and lighting fixtures.
Common light bulbs have no place among the style of periods past, and being able to find the antique light bulbs you need is not as daunting a task as one might think. Aamsco lighting has the perfect antique styled light bulbs that can help you amplify the classic gas light feel that you are looking for. They depict an old world atmosphere that is authentic to your historic home or building. Our antique light bulbs can accent the rustic characteristics of the genuinely aged, or recently constructed to look aged, with just a hint of flair and a taste of tinted light. It creates the perfect balance of the classic and the charismatic, to establish a timelessness that is uncanny. If unforgettable simplicity and antiquated beauty is a must for your lighting needs, be it to accentuate a particular mood, expose the spirit of a flavored art piece or to generate an elegance of any time honored setting, you can find it at Aamsco Lighting.
Aamsco Lighting has been in business for over 30 years and is able to provide an excellent selection of antique light bulbs to complement any of your rare or fanciful finds. When you do find that you are in need of antique light bulbs to compliment that Victorian chandelier or perhaps even one antique light bulb to bring a warm glow to your Samuel Clarke Fairy Lamp, you'll be able to find it at Aamsco Lighting. In order to recreate the ambiance of your art nouveau pieces, it is important that you have the correct antique bulb. Many of your art nouveau lamps have glass globes or shades that need that "just right" amount of light from an antique bulb to cast a warm, inviting glow around the room.
No matter what the theme of your room is, a true antiques connoisseur will see to it that everything in the room remains true to form with no substitutions for the original. When you have spent hundreds of dollars on your antique lamp or chandelier, it would only stand to reason that you would also spend the money to provide the perfect antique light bulb to accompany those outstanding, one of a kind, items.
When someone walks into your home or office and begins to eye that gorgeous lamp or hanging fixture, don't you want them to see it the way it was meant to be seen, when it was first created 100 years ago? It's not just a look you are creating with your antique lamps, it's also a feeling. Antique light bulbs have their own look and shape. Similar items are on the market today but nothing can compare to the original style or glow that comes from the way things were. So remember when you are in the market for your first antique light bulb or first 100 antique light bulbs, Aamsco lighting can get your antique lamps and light fixtures glowing beautifully again.