There have been substantial developments in the design and functionality of infrared halogen lamps that have made them more versatile and have made them a more appropriate heating solution for a large amount of applications.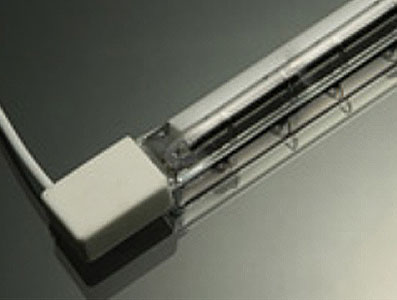 Infrared halogen lamps are a staple for businesses in the food, plastic manufacturing and processing, paper processing, printing, metalworking, car manufacturing, glass processing and machining, solar panel, textile, semiconductor and wood processing industries because they produce a consistent heat source that has helped businesses improve productivity and quality assurance. This type of heat lamp is a very useful heating resource; it could improve your daily operations and extend your capabilities.
Infrared Halogen Lamps from Aamsco Lighting
Infrared halogen lamps from Aamsco Lighting are made from quartz glass, which is heat shock resistant. This means that the glass used to create these infrared heat lamps won't be affected by changes in temperature. This specialized glass eradicates the concern of sites with less-than-ideal temperatures for halogen heat lamps. Because the material has been tested, it's been found to be resilient to extremely hot or cold temperatures. This makes it the ideal material for our high-quality infrared halogen lamps. The bulbs that we use in our lamps also have low internal tube pressure. This eliminates the risk of the lamp exploding due to excessive use. With these features, you can enjoy a safer long-term heating solution.
Aamsco Lighting provides quality infrared halogen lamps for a variety of different industries that require specialized heating equipment for particular applications. We have a selection of halogen heating lamps that come with specific size, power and tint options that will make them the ideal choice for your individual purpose. We can connect you with an infrared heating solution that is safe, dependable and effective.