Quartz Infrared Heat Light Bulbs
Aamsco Lighting offers a wide range of infrared light bulbs and infrared heat lamps. These lights can be used for a variety of applications, from cooking to crafting to printing and more. We encourage you to call us now to get a quote for your future infrared heat lamp supplies.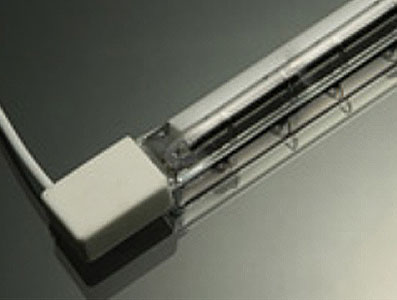 Quartz Infrared Lamps
Infrared light bulbs can be used in many Industrial, Zone Heating and Commercial Processing Applications including PET moulding.
Food Warming
Zone Heating
Paint Drying
Plastic Vacuum Forming
Cooking
Curing
Adhesive Drying
Semiconductors
Printing
Quartz Infrared Heat Lamps
Types of Heat Lamps
Type
W
V
Total lgth (mm)
Heating lgth (mm +/- 5)
Base
Finish
Diam (mm)
Color temp K Clear lamp
Burning pos.
Life hrs
Cables (mm)
Connection
17013Z/98
200
60
97.0
40.0
SK15
REFLECT
10.5
1800
Horiz.
5000
250/250
splice
14181Z
300
120
433.0
380.0
SK15
CLEAR
11.0
1850
Any
5000
600/100 insulated
splice
13908R
300
230
117.5
60.0
R7S
CLEAR
11.0
2500
Horiz.
1000
na
na
13908Z
300
230
122.0
60.0
SK15
CLEAR
11.0
2500
Horiz.
1000
140/140
splice
14169Z
350
235
628.0
550.0
SK15
TRANSL
11.0
1750
Any
5000
1200/230 insulated
splice
13296C
400
110
495.4
443.0
SK11
CLEAR
11.0
1800
Horiz.
5000
183/513
special
13296C2
400
110
495.4
443.0
SK11
CLEAR
11.0
1800
Horiz.
5000
120/500
special
13939F-V
400
110
SK11
CLEAR
11.0
2150
Horiz.
5000
105/105
faston
13939F-V
400
230
SK11
CLEAR
10.0
2250
Horiz.
5000
105/105
faston
13169X
500
120
242.0
142.0
X
CLEAR
11.0
2450
Horiz.
5000
na
na
13169X/98
500
120
242.0
142.0
X
REFLECT
11.0
2450
Horiz.
5000
na
na
500T3
500
120
224.0
127.0
U
TRANSL
11.0
2500
Horiz.
5000
146/146 not insulated
splice
13169CF/850
500
235
230.5
160.0
ClicFit
CLEAR
19.0
2400
Horiz.
5000
na
na
13169R
500
235
220.6
165.0
R7S
CLEAR
11.0
2450
Horiz.
5000
na
na
13169Z/850
500
235
225.0
160.0
SK15
CLEAR
19.0
2400
Horiz.
5000
230/230
splice
13169Z/98
500
235
227.0
159.0
SK15
REFLECT
11.0
2300
Horiz.
5000
200/200
fork
14142Z
500
235
787.5
700.0
SK15
TRANSL
11.0
1800
Any
5000
1200/230 insulated
splice
14157Z
500
235
628.5
550.0
SK15
TRANSL
11.0
1800
Any
5000
230/1200 insulated white wire
splice
15011Z
500
235
227.5
162.0
SK15
HeLeN
11.0
na
Horiz.
5000
300/300 insulated
fork
15084Z
500
235
226.0
165.0
SK15
HeLeN
11.0
na
Horiz.
5000
150/500 insulated white wire
splice
13790R
650
220
550.4
495.0
R7S
CLEAR
11.0
2200
Horiz.
5000
na
na
17018Z
650
235
236.0
164.0
SK15
CLEAR
11.5
1700
Horiz.
5000
140/140
splice
13842Z
700
240
216.0
150.0
SK15
CLEAR
11.0
2600
Horiz.
5000
140/140 insulated
splice
14117Z
750
230
787.0
700.0
SK15
CLEAR
11.0
2000
Any
5000
1200/230 insulated
splice
14124Z
750
230
787.0
700.0
SK15
TRANSL
11.0
1750
Any
5000
1200/230 insulated
splice
14155Z
750
230
787.0
700.0
SK15
CLEAR
11.0
1750
Any
5000
1200/230 insulated
splice
13207/998
1000
110
204.0
126.0
R7S W/LEAD
REFLECT
11.0
2400
Any
5000
200/200
fork
15049Z
1000
120
355.0
280.0
SK15
HeLeN
11.0
na
Any
5000
300/300 double insulated
faston
15078Z
1000
120
355.0
280.0
SK15
HeLeN
11.0
na
Any
5000
500/500 insulated white wire
splice
13195U
1000
235
346.0
270.0
U
CLEAR
11.0
2500
Horiz.
5000
202/202 not insulated
splice
13195X
1000
235
370.0
272.0
X
CLEAR
11.0
2500
Horiz.
5000
na
na
13195X/98
1000
235
370.0
272.0
X
REFLECT
11.0
2500
Horiz.
5000
na
na
13195Z/98
1000
235
355.0
272.0
SK15
REFLECT
11.0
2500
Horiz.
5000
200/200 insulated
fork
13713X
1000
235
370.0
272.0
X
CLEAR
11.0
2450
Any
5000
na
na
13713X/98
1000
235
370.0
272.0
X
REFLECT
11.0
2450
Any
5000
na
na
13713Z/98
1000
235
355.0
272.0
SK15
REFLECT
11.0
2500
Any
5000
200/200 insulated
fork
13713Z/98L
1000
235
355.0
272.0
SK15
REFLECT
11.0
2500
Any
5000
300/300 insulated
fork
15007Z
1000
235
355.0
272.0
SK15
HeLeN
11.0
na
Horiz.
5000
300/300 double insulated
faston
15008X
1000
235
370.0
272.0
X
HeLeN
11.0
na
Any
5000
na
na
15009Z
1000
235
355.0
272.0
SK15
HeLeN
11.0
na
Any
5000
900/900 insulated
faston
15058Z
1000
235
355.0
280.0
SK15/21
HeLeN
11.0
na
Any
5000
400/400 double insulated white wire
splice
15066Z
1000
235
355.0
272.0
SK15
HeLeN
11.0
na
Horiz.
5000
300/500 double insulated whire wire
splice
15070Z
1000
235
355.0
272.0
SK15
HeLeN
11.0
na
Horiz.
5000
150/500 insulated white wire
15072C
1000
235
336.0
280.0
R7s+LEAD
HeLeN
11.0
na
Horiz.
5000
155/155 double insulated
splice
15079Z
1000
235
355.0
272.0
SK15
HeLeN
11.0
na
Any
5000
500/500 insulated white wire
splice
15081Z
1000
235
355.0
272.0
SK15
HeLeN
11.0
na
Horiz.
5000
200/600 double insulated
faston
15090Z
1000
235
355.0
272.0
SK15
HeLeN
11.0
na
Any
5000
600/600 double insulated/insulated white wire
splice
1000T3
1000
240
351.0
254.0
U
TRANSL
11.0
2500
Horiz.
5000
146/146
splice
1000T3/CL
1000
240
306.0
254.0
U
CLEAR
11.0
2500
Horiz.
5000
146/146 not insulated
splice
14187Z/98
1000
400
355.0
274.0
SK15s
REFLECT
11.0
2550
Horiz.
5000
200/200 insulated white wire
fork
15026Z
1100
230
532.0
446.0
SK15
HeLeN
11.0
na
Any
5000
85/85 insulated
tab
15040R
1,100
230
254.1
185.0
R7S
HeLeN
11.0
na
P4
2,000
na
na
15025R
1200
120
254.1
185.0
R7S
HeLeN
11.0
na
Horiz.
2000
na
na
15025R
1200
120
254.1
185.0
R7S
HeLeN
11.0
na
Horiz.
2000
na
na
15089R
1200
120
254.1
185.0
R7S
Gold
11.0
na
Horiz.
2000
na
na
13561U
1200
144
222.5
150.0
U
REFLECT
11.0
2400
Horiz.
5000
150/150
fork
13561U/98
1200
144
222.5
150.0
U
REFLECT
11.0
2400
Horiz.
5000
150/150
fork
13561Z/98
1200
144
228.0
150.0
SK15
REFLECT
11.0
2500
Horiz.
5000
150/150
fork
14134Z/98
1200
235
224.0
155.0
SK15
REFLECT
11.0
2600
Horiz.
5000
150/150
fork
13393Z
1300
235
787.0
700.0
SK15
CLEAR
11.0
2000
Any
5000
200/200 insulated
fork
15094Z
1300
235
355.0
280.0
SK15
HeLeN
11.0
na
Any
5000
600/600 double insulated /insulated white wire
splice
15028R
1300
240
254.1
185.0
R7S
HeLeN
11.0
na
Horiz.
2000
na
na
15085R
1300
240
254.1
185.0
R7S
Gold
11.0
na
Horiz.
2000
na
na
15015Z
1500
120
355.0
280.0
SK15
HeLeN
11.0
na
Horiz.
5000
300/300 insulated
fork
15062Z
1,500
120
355.0
280.0
SK15
HeLeN
11.0
na
Any
5000
400/400 double insulated/insulated white wire
splice
15093Z
1500
120
355.0
280.0
SK15
HeLeN
11.0
na
Any
5000
600/600 double insulated / insulated white wire
splice
15004CF
1500
235
359.0
280.0
ClicFit
HeLeN
11.0
na
Horiz.
5000
na
na
15004Z
1500
235
355.0
280.0
SK15
HeLeN
11.0
na
Horiz.
5000
300/300 double insulated
faston
15034Z
1500
235
355.0
280.0
SK15
HeLeN
11.0
na
Any
5000
300/300 double insulated
faston
15042Z
1500
235
355.0
280.0
SK15
HeLeN
11.0
na
Horiz.
5000
150/500 insulated white wire
splice
15050Z
1500
235
355.0
280.0
SK15
HeLeN
11.0
na
Any
5000
150/500 insulated white wire splice
splice
15053C
1500
235
352.0
280.0
R7S+LEAD
HeLeN
11.0
na
Horiz.
5000
15/15 not insulated
na
15059Z
1500
235
355.0
280.0
SK15/21
HeLeN
11.0
na
Any
5000
400/400 double insulated/insulated white wire
splice
15067Z
1500
235
355.0
280.0
SK15
HeLeN
11.0
na
Horiz.
5000
300/500 double insulated splice white wire
splice
15071C
1500
235
336.0
280.0
R7S+LEAD
HeLeN
11.0
na
Horiz.
5000
155/155 double insulated
splice
15076C
1500
235
352.0
280.0
R7s+LEAD
HeLeN
11.0
Any
5000
162/512 single insulation
semi-strip
15080Z
1500
235
355.0
272.0
SK15
HeLeN
11.0
na
Any
5000
500/500 insulated white wire
splice
15082Z
1500
235
355.0
280.0
SK15
HeLeN
11.0
na
Horiz.
5000
200/600 double insulated
faston
15091Z
1500
235
355.0
280.0
SK15
HeLeN
11.0
na
Any
5000
600/600 double insulated/insulated white wire
splice
15010Z
1500
240
355.0
280.0
SK15
HeLeN
11.0
na
Horiz.
5000
300/300 double insulated
fork
15030R
1500
240
351.1
280.0
R7S
HeLeN
11.0
na
Horiz.
5000
na
na
13568U
1600
144
222.5
155.0
U
REFLECT
11.0
2500
Horiz.
5000
150/150
fork
13568U/98
1600
144
222.5
155.0
U
REFLECT
11.0
2500
Horiz.
5000
150/150
fork
13568U/98
1600
144
222.5
155.0
U
REFLECT
11.0
2500
Horiz.
5000
150/150
fork
14135Z/98
1600
235
228.0
155.0
SK15
REFLECT
11.0
2600
Horiz.
5000
150/150
fork
1600T3/7
1600
240
498.5
406.0
R7S
TRANSL
11.0
2550
Horiz.
5000
na
na
1600T3/CL
1600
240
503.0
406.0
U
CLEAR
11.0
2500
Horiz.
5000
146/146
splice
1600T3
1600
277
503.0
404.0
U
FROSTED
11.0
2500
Horiz.
5000
146/146 not insulated
splice
13252/99
1600
600
731.5
418.0
R7S+LEAD
CLEAR
11.0
2700
Horiz.
5000
190/190 splice
splice
13214Z/98
2000
230
656.0
500.0
SK15
REFLECT
11.0
2400
Horiz.
5000
500/500 splice insulated
splice
13168V
2000
235
350.0
280.0
V
CLEAR
2450
Any
5000
138/117 insulated
ring
13168X
2000
235
370.0
280.0
X
CLEAR
11.0
2500
Any
5000
na
na
13168X/98
2000
235
370.0
280.0
X
REFLECT
11.0
2500
Any
5000
na
na
13168Z
2000
235
355.0
280.0
SK15
CLEAR
11.0
2500
Any
5000
200/200 insulated
fork
13168Z/98
2000
235
355.0
280.0
SK15
REFLECT
11.0
2500
Any
5000
200/200 insulated
fork
13213Z/98F
2000
235
355.0
280.0
SK15s
REFLECT
11.0
2500
Horiz.
5000
200/200 insulated white wire
fork
14103Z/98
2000
235
355.0
280.0
SK15
REFLECT
11.0
2500
Horiz.
5000
230/230 insulated
splice
14132Z/98
2000
235
787.5
700.0
SK15
REFLECT
11.0
2 300 / 2 400
Horiz.
5000
500/500
splice
14136Z/98
2000
235
355.0
280.0
SK15
REFLECT
11.0
2700
Horiz.
5000
200/200 insulated
fork
14189V
2000
235
350.0
280.0
V
CLEAR
11.0
2450
Any
5000
85/85 white wire insulated
splice
14193Z/98
2000
235
360.0
285.0
SK15
REFLECT
11.0
2400
Horiz.
5000
160/160 double insulated
ring
15005Z
2000
235
355.0
280.0
SK15
HeLeN
11.0
na
Horiz.
5000
300/300 double insulated
faston
15021Z
2000
235
355.0
280.0
SK15
HeLeN
11.0
na
Any
5000
300/300 double insulated
faston
15095Z
2000
235
355.0
280.0
SK15
HeLeN
11.0
na
Any
5000
300/900 double insulated
faston
15043Z
2000
235
355.0
280.0
SK15
HeLeN
11.0
na
Horiz.
5000
150/500 insulated white wire
splice
15045Z
2000
235
532.0
446.0
SK15
HeLeN
11.0
na
Any
5000
85/85 double insulated
tab
15051Z
2000
235
355.0
280.0
SK15
HeLeN
11.0
na
Any
5000
150/500 insulated white wire
splice
15057Z
2000
235
355.0
280.0
SK15
HeLeN
11.0
na
Any
5000
400/400 double insulated splice white wire
splice
15060Z
2000
235
355.0
280.0
SK15
HeLeN
11.0
na
Horiz.
5000
140/140 double insulated white wire
splice
15068Z
2000
235
355.0
280.0
SK15
HeLeN
11.0
na
Horiz.
5000
300/500 double insulated/insulated white wire
splice
15083Z
2000
235
355.0
280.0
SK15
HeLeN
11.0
na
Horiz.
5000
200/600 double insulated
faston
15092Z
2000
235
355.0
280.0
SK15
HeLeN
11.0
na
Any
5000
600/600 double insulated / insulated white wire
splice
2MT3/1CL/HT/UB0
2000
240
305.0
254.0
U
CLEAR
11.0
2500
Any
5000
146/146 not insulated
splice
13245X
2000
400
512.0
416.0
X
CLEAR
11.0
2450
Horiz.
5000
na
na
13245X/98
2000
400
512.0
416.0
X
REFLECT
11.0
2450
Horiz.
5000
na
na
13765X
2000
400
512.0
410.0
X
CLEAR
11.0
2450
Any
5000
na
na
13765X/98
2000
400
508.0
410.0
X
REFLECT
11.0
2450
Any
5000
na
na
14141X
2000
400
370.0
282.0
X
CLEAR
11.0
2700
Any
5000
na
na
14173Z/98
2000
400
355.0
274.0
SK15s
REFLECT
11.0
2700
Horiz.
5000
300/300
splice
14188Z/98
2000
400
355.0
274.0
SK15s
REFLECT
11.0
2700
Horiz.
5000
200/200 insulated white wire
fork
14207X/98
2000
400
843.0
274.0
X
REFLECT
11.0
2600
Any
5000
na
na
14137Z/98
2500
235
355.0
280.0
SK15
REFLECT
11.0
2700
Horiz.
5000
200/200 insulated
fork
14182V
2500
235
350.0
284.0
V
CLEAR
11.0
2450
Any
5000
117/138 insulated
ring
14190V
2500
235
350.0
284.0
V
CLEAR
11.0
2450
Any
5000
85/85 White wire insulated
splice
14140C/98
2500
400
600.0
506.0
R7S+LEAD
REFLECT
11.0
2550
Horiz.
5000
300/300
splice
14143Z/98
2500
400
355.0
280.0
SK15s
REFLECT
11.0
2700
Horiz.
5000
200/200 insulated
fork
14120R
2500
480
726.0
638.0
R7S
CLEAR
11.0
2550
Horiz.
5000
na
na
2500T3
2500
480
731.0
638.0
U
TRANSL
11.0
2550
Horiz.
5000
146/146
splice
2500T3/7
2500
480
726.0
638.0
R7S
TRANSL
11.0
2550
Horiz.
5000
na
na
2500T3/CL
2500
480
731.0
638.0
U
CLEAR
11.0
2550
Horiz.
5000
146/146
splice
14168C
2500
575
730.0
636.0
R7S+LEAD
CLEAR
11.0
146/146
splice
13848/99
2500
600
1059.0
636.0
R7S+LEAD
CLEAR
11.0
2500
Horiz.
5000
146/146
splice
14107Z
3000
230
787.0
700.0
SK15
CLEAR
11.0
2400
Horiz.
5000
500/500
splice
14107Z/98
3000
230
787.0
696.0
SK15
REFLECT
11.0
2300
Horiz.
5000
500/500 insulated
splice
13565V
3000
235
350.0
277.0
V
CLEAR
13.5
2400
Any
5000
138/117
ring
13565X
3000
235
370.0
277.0
X
CLEAR
13.0
2500
Any
5000
na
na
14121Z/98
3000
235
355.0
280.0
SK15
REFLECT
11.0
2650
Horiz.
5000
230/230
splice
14194Z/98
3000
235
360.0
285.0
SK15
REFLECT
11.0
2650
Horiz.
5000
160/160 double insulated
ring
15012U
3000
235
503.0
423.0
U
HeLeN
11.0
na
Any
5000
146/146
splice
13215X
3000
400
802.0
700.0
X
CLEAR
11.0
2450
Horiz.
5000
na
na
13230X
3000
400
802.0
700.0
X
CLEAR
11.0
2450
Any
5000
na
na
13230X/98
3000
400
802.0
700.0
X
REFLECT
11.0
2450
Any
5000
na
na
14144Z/98
3000
400
355.0
280.0
SK15s
REFLECT
11.0
2650
Horiz.
5000
200/200 insulated
fork
14175Z
3000
400
355.0
280.0
SK15s
CLEAR
11.0
2650
Horiz.
5000
230/230 insulated
splice
14177C/98
3000
400
784.0
700.0
R7S+LEAD
REFLECT
11.0
2450
Horiz.
5000
300/300 insulated
splice
14205C
3650
480
1061.0
962.0
R7S+LEAD
CLEAR
11.0
2500
Horiz.
5000
146/146
splice
14206C
3800
570
1058.0
963.0
R7S+LEAD
CLEAR
11.0
2500
Any
5000
146/146
splice
3800T3
3800
575
1062.0
965.0
U
TRANSL
11.0
2500
Horiz.
5000
146/146
splice
3800T3/CL/UB
3800
575
1062.0
967.0
U
CLEAR
11.0
2500
Any
5000
146/146 not insulated
splice
Back to Top
TYPE
WATTS
VOLTS
BASE
MOL (MM)
DIAM (MM)
FINISH
Burning Pos.
Life hrs.
IR150CH R125
150
230-250
E27
179
125
Clear
Universal
5000
IR150CH R125
150
230-250
E27
179
125
Red
Universal
5000
IR175CH R125
175
230-250
E27
179
125
Clear
Universal
5000
IR250CH R125
250
230-250
E27
179
125
Red
Universal
5000
IR250H R125
250
230-250
E27
179
125
Clear
Universal
5000
IR300CH R125
300
230-250
E27
179
125
Clear
Universal
5000
IR375CH R125
375
230-250
E27
183
125
Clear
Universal
5000
IR375FR R125
375
230-250
E27
183
125
Frosted
Universal
5000
IR100R PAR38
100
230
E27
136
121
Red
Horizontal H45
5000
IR100R PAR38
100
240
E27
136
121
Red
Horizontal H45
5000
IR100C PAR38
100
230
E27
136
121
Clear
Universal
5000
IR100C PAR38
100
240
E27
136
121
Clear
Universal
5000
IR175C PAR38
175
230
E27
136
121
Clear
Universal
5000
IR175C PAR38
175
240
E27
136
121
Clear
Universal
5000
IR175R PAR38
175
230
E27
136
121
Red
Horizontal H45
5000
IR175R PAR38
175
240
E27
136
121
Red
Horizontal H45
5000
Back to Top