Aamsco Lighting specializes in lighting solutions for a variety of industries. Among these is our full line of infrared heat lamps, which can be used for a variety of applications in a wide range of industries. An infrared heat lamp can be used in the plastic molding industry, like for soft drink bottles, water bottles and any kind of plastic container that is constructed using PET (Polyethylene Terephthalate) moulding.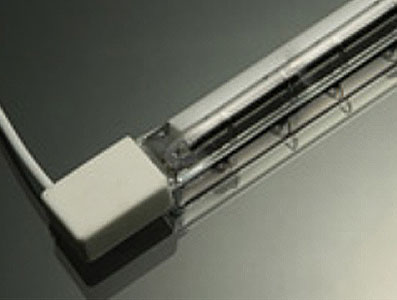 Infrared heat lamps are a fast and economical way to crystallize and dry PET. In fact, an infrared heat lamp can reduce your energy costs by 45% during the PET moulding process.
When it comes to heat applications, the manufacturing industry relies on cutting-edge, adaptive technologies; infrared heating technology fits in perfectly here. An infrared heat lamp built for manufacturing can be used in a wide variety of production steps. These include automotive parts, glass and metal production, the digital printing press, textile manufacturing, vacuum dry and seal applications, wood treatment, rubber production, and much more. Precision-controlled heat is vital for accurate and consistent quality for everything from plastics to vinyl. At Aamsco Lighting, we can provide you with infrared heat lamps that are perfect for these industries.
Infrared Heat Lamps from Aamsco Lighting
The Food Industry
Businesses thrive on new and updated technologies, and infrared technology is a part of this. This is especially true for businesses in the food industry. Infrared heat lamps can extend the shelf life of certain foods. This means they will be enjoyable for some time after they have been prepared. An infrared heat lamp can preserve some the flavor of foods by keeping them hot. This is perfect for restaurants that have a "Buffet Style" setup. The benefits of an infrared heat lamp can keep your customers happy by keeping their food warm.
Frosted Infrared Heat Lamps
Outdoor Businesses
Infrared heat lamps are also often used as heat sources. Outdoors-based industries can use these products to keep their staff safe and warm; these lamps can improve comfort and awareness in your employees while they work. They provide a better work environment that can promote health and safety.
The Medical Industry
Infrared heat lamps have many medical uses, from muscle therapy to cancer treatments. Most state-of-the-art hospitals have infrared heat lamps in their emergency rooms and intensive care units. This gives patients the best care using the latest in infrared and other technologies.
At Aamsco, we strive to offer the best industry-diverse products so that companies can fulfill their customers' best interests. Our infrared heat lamp selection includes products that are ideal for a number of situations. No matter what kind of business you're in, our lamps can help. Our lighting specialists can talk to you to make sure that you get the best infrared heat lamp for your purpose.